Memoir Introduction
Dennis Damp's story is that of an average person living life, at times, in what many would consider difficult circumstances. He represents what one can do with so little, and go so far, even when the world expects so little of you. This is a story of life's struggle to not only make ends meet but to eventually succeed beyond what most others would have thought possible due to a family's early misfortunes. His story provides a perspective of that ordinary life and how anyone with drive, motivation, and desire can make their dreams come true.
Damp suggests that some consider memoirs and auto biographies irrelevant. Isn't it best to focus on where we're going, not where we've been? Knowing what transpired in the past helps us understand the why and wherefore of a singular life interrupted by time and circumstance. A life story reveals the rhyme and reason for our existence and how we ended up where we are today.
The Early Years, A Road Less Traveled

by Dennis V. Damp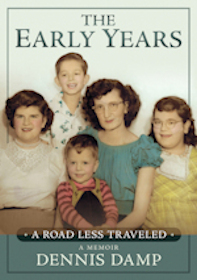 Life in the mid-twentieth century was all one could imagine of that time, a Forrest Gump world running at a snail's pace. The only cell phone we encountered was in the comic strips when Dick Tracy was all the rage. Computers were relegated to large research facilities, filling huge rooms with vacuum-tube equipment racks emanating ambient light and illuminating the room's interior.
Airplanes were becoming popular after World War II, but most relied on trains and trolleys to get where they needed to go. The middle class bought cars and homes at a feverish pace, yet most could only dream about living the "life of Riley," an expression coined from an early 1950s TV sitcom. We watched Father Knows Best, The Donna Reed Show, and others that represented the ideal traditional family, infusing our dreams with visions of a stable, satisfying life surrounded by family and friends.
The traditional family was on parade—a working father, a stay-at-home mom, and two adorable children—yet cracks were forming in that foundation by the 1960s. The younger generation, my generation, made waves as we grew up in a world still filled with conflict: the Korean War, Vietnam, the civil rights movement, and so much more. From this discourse the hippy generation and Woodstock were born along with the antiwar movement fomenting riots throughout the country.
This was the backdrop for my generation, growing up in a slower-paced society embroiled in war along with social and economic unrest. Dreams and reality often conflict, and that, too, was the norm, not the exception back then. Yet there was always the thought that hard work, desire, and drive would afford anyone the opportunity to succeed in life.
This is my story, recollections of a life filled with high expectations, daunting challenges, and combined with a large dose of reality in a multitude of environments and circumstances. All of which helped me become who I am today. It's a story of our family's early trials, tribulations, and successes all rolled into one. This sometimes-haphazard journey took on a life of its own, with diverse paths others may have found difficult to navigate. Failures contributed significantly to the journey and are a necessary component of all our lives. Successful people use failures as stepping stones to unimaginable accomplishments.
While I'm hopeful what follows provides readers with something they'll find thought-provoking, inspiring, or even amusing, in a nutshell, my story is that of an average person living life, at times facing what many would consider difficult, if not formidable circumstances.
First edition 2020, Published by Bookhaven Press LLC
ISBN Print: 978-0-943641-36-2
Paperback 6" x 9", 218 Pages
Illustrated: 144 Photographs
Price: $16.95, Plus $3.75 for Shipping & Handling

Cover design by George Foster
Editing by Mirada Miller, Judy Pernisek Minsavage, Dennis V. Damp Jr., and Mary Damp
Printed in the United States of America
SAMPLE CHAPTER & TESTIMONIALS
>
Limited Quantities Available
When our inventory is depleted we don't anticipate ordering another print run. Very limited quantities remain.
This book is available direct from Bookhaven Press LLC. If you would like to purchase a copy, complete and send the following form to our ordering department. We will send an invoice to your email address. Payment is made online with any major credit card. Just click on "VIEW and PAY" at the bottom of the email you receive, and enter your credit card information. All of your information is secure and orders are processed by Intuit, the company that owns Turbo Tax and Quickbooks. You can also send a check in the mail if preferred.
ORDER OPTIONS:
Credit card orders: We will prepare an invoice and send you a reply email invoice that you will pay online using all major credit cards. Just click on "VIEW and PAY" at the bottom of the email your receive back after sending in the form below, and enter your credit card information. Books will be shipped when the payment processes. Payments are secure and processed by Intuit, the makers of Turbo Tax and Quick Books.

Mail Orders: If you prefer, you can send a check for $20.70 direct to our office. PA residents must add 7% sales tax for a total due of $22.15. Send a check made out to Bookhaven Press LLC, and send it to 302 Scenic Court, Moon Township, PA 15108. Use our "Mail Order Form (PDF)" to send payment in the mail.
"The Early Years, A Road Less Traveled" a memoir by Dennis Damp costs $16.95, plus $3.75 shipping & handling, for a total of $20.70.
Pennsylvania residents must add 7% sales tax for a total due of $22.15.
Please complete this form and click on the submit button. We will send you an invoice for this amount via a return
email. Payment is made online through Intuit, just click on "View and Pay" on the email you receive to make payment
with any major credit card. Expect delivery via USPS Media Mail within 7 to 10 business days.
3/10/2021 - Buy it! Read it! I have been a friend, colleague, and co-worker, but mostly a friend, of Dennis Damp for over 40 years. I read his memoir, The Early Years: A Road Less Traveled, twice because I enjoyed it so much the first time. What a precious gift he has given to his children, grand-children, family and friends, as well as those who know him only from reading this book. Dennis invites us to walk with him on the same road he walked in the formative years of his life. Few people are privileged enough to be granted that much insight into the people they care about. I am a Family History buff and often think about the things I wish I could now ask my departed parents about their early lives … their experiences … what they have learned … and what they wish they would have done differently. Dennis has generously shared this precious present with us all. I look forward to Part 2 … "The Story of the Rest of His Life". Thanks Dennis … and kudos to your loving wife, Mary. Frank Cullen
12/5/2020 - It did bring back a lot of memories. I loved growing up in Wilkinsburg and while reading your book I remembered so many things. Your book was great. Thanks for the memories. Pat
11/2/2020 - book review by Barbara Bamberger Scott, US Review of Books
"This sometimes haphazard journey took on a life of its own, with diverse paths others may have found difficult to navigate."
Author and publisher Damp recalls the first thirty years of his life, a fascinating series of twists and turns that began with an upbringing as the fourth child in a problem-ridden family coping with economic insecurity, living "paycheck to paycheck." After his father's death when he was a toddler, his mother struggled, once chastising her son for straining their budget by asking for twenty-five cents to go to the movies. He and various members of the family moved more than a dozen times, seeking a safe, decent, secure home. He took on any odd jobs he could find, developing a strong work ethic from early childhood. He was fortunate to attend the Hershey School, a boarding facility for disadvantaged boys. After meeting and marrying Mary, the love of his life, he served on active duty in the military and then was employed in technical work for the Air National Guard, the Department of Defense, and the Federal Aviation Administration.
Now retired from government service, Damp still works—with the same pride and push that characterized his previous endeavors—in his self-created business, Bookhaven Press, authoring and publishing numerous works offering detailed assistance for navigating complex federal systems at all levels. This new work stands out as intensely personal, painting views of American home life, imbued with both city and rural values, common in the mid-twentieth century. It also demonstrates how some Americans have coped with straitened circumstances of family loss and financial insecurity. He presents his mother as a deserving example of determination to support her children after sudden widowhood. Experiences surrounding his children's growth and the peripatetic lifestyle required by military service add interest, while many photos bring the characters into vibrant focus. Damp clearly wishes to share his administrative acuity with others and, as importantly, his love of family and home. His memoir can serve as encouragement and example to a wide audience.
10/8/2020 - I read The Early Years with a mixture of curiosity and interest. The road that you traveled, especially in your early years, passed by many dark alleys that, had you stepped into them, they would have impacted your life far differently. It's a tribute to your mom that her strength, perseverance and love enabled you to avoid those dark alleys and experience a dramatically different life. How you reacted to your mom's strength, perseverance and love was a critical piece of determining your path in life. Your mom lived through difficult times growing up and you and your siblings also experienced difficult times growing up. Yet, being poor and doing without didn't become an excuse, instead it became the foundation for your success and a blueprint for raising your own family. Readers, should come away with a clear understanding of the difficult time that your mom and family experienced and your mom's influence on your approach to life. Dennis, "The Early Years" make the words of the epilogue resonate with meaning, After reading your book I feel the words on the back cover reflect what's between the covers. Al
9/28/2020 - Your book is truly inspirational and should be required reading for all high school and college students. It proves that one can overcome poverty and other obstacles and accomplish your objectives. My God, you had a lot to deal with! John W.
9/25/2020 - The preface and epilogue present important thoughts for reflection, especially if the reader takes some time to think about them. The preface is a reminder of a life process that tends to be overlooked. That life process is change. Life continually changes, sometimes imperceptible, sometimes dramatic, but change constantly occurs. The first four paragraphs of the preface illustrate this point clearly. "Yet there was always the thought that hard work, desire, and drive would always afford anyone the opportunity to succeed in life." I think this sentence represents the anvil on which one attempts to forge their life. "Successful people use failures as stepping stones to unimaginable accomplishments." The foundation which you were able to write your book on. The preface's last paragraph tells the reader about what he should expect as he reads the book. Now it remains for the reader to discover if "...I represent what can be done with so little..." or something different. The words of the epilogue deserve serious thought by the reader. Anyone who considers seriously what you wrote in the preface and epilogue should come away with a clear understanding of how to better one's life. Albert P
9/1/2020 - I just finished your book. It should be required reading for every family. Your Mother was a strong woman, who made her decisions based on what was best for her family. She did what she had to do in order to give you all the best chance in life while suffering great heartache but holding her self-respect. And you're absolutely right, determination, hard work and a strong family unit instilled at an early age are what's missing in this age of entitlements. Judy M
8/30/2020 - I finished reading your book this morning at about 0200. Totally enjoyed and grew up very similarly. I definitely took away from your book that you totally appreciated all the sacrifices that your wife made along the way, that you both worked together for the good of the family through the good and the bad times. Congratulations on your long marriage to terrific Mary. Murielle M
8/27/2020 - Your book is well written and informative. You made all the details and timelines interesting and that is not easy to do - enough information but not too much. Everyone's life has a story. You made good on your opportunities both as a child and an adult... I give Mary a lot of credit for keeping up with you. You and Mary started from scratch and just kept working hard and moving forward. It's amazing when you're young how you just do whatever you need to do on a wing and a prayer. Janet B
8/8/2020 - My Dad wrote this beautiful memoir of his life and I absolutely loved it! I felt like I lived those times with him. I have gotten to know family members I never met such as his beautiful mother. I am in awe how my Dad is such a beautiful writer! This book shows you how you can do anything if you work for it! He lived with perseverance rather then focusing on misfortunes. Too many people today blame their circumstances for the way they are. This books shows you how to grow and push on despite the circumstances and become successful! I admire his drive and commitment to his family and work! Dad, you are amazing! I love you! Sabrina Damp Bradley
8/6/2020 - Dennis, I enjoyed reading you memoir. While your life has been filled with many challenges, you can be proud of your many accomplishments. It has been said that, "behind every successful man is a strong woman" which you found over 50 years ago in Mary. Harry D